How to Customize Your Website Header (Custom Color, Custom Image Background)
To change the style of your theme's header, go to the theme customizer by going to "Appearance" and "Customize" in your WordPress admin dashboard:
At the bottom of the "Header" section, there are several options available, that let you change the header background: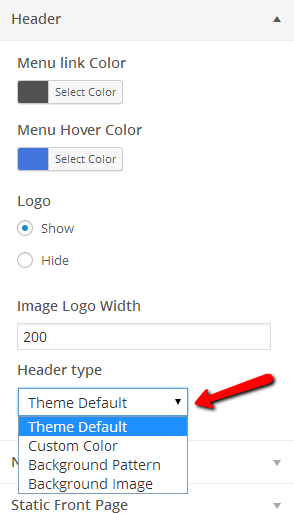 Custom Color
Select this option to choose a custom color using a color picker. The color will display uniformly across the entire header background.
Background Pattern
Select this option and choose one of the many included patterns that can be displayed as the header background.
Background Image
Select this option and upload or choose an image to use as the header background. There are two ways to display an image in the header:

When you choose the Full-Width option, the image will be scaled to fit the entire width of the screen. You can set a header height (in pixels) in the field above to show more or less of the image.
When you choose the Centered option, the image is shown at it's full width and full height, centered in the header area. This will look best when the header image has the same width as the total content width. Check out the theme guides to see what the right size is for each theme (look for the full-width image width).
Once you have set a header style you are happy with, you can use the menu link color pickers at the top of the headers section to make sure that the menu items are visible on the chosen background.