Links
Q&A
After the webinar, there was also a Q&A session, which ran on for more than an hour. To save time in the replay video, I've transcribed the most important questions and answers here:
[thrive_toggle color='white' title='Are the themes/short codes/phone numbers/etc. mobile responsive?']Yes, everything in Thrive Themes is 100% mobile responsive, meaning that it will automatically change size and layout to match whatever screen size it is being viewed on.
This is true for our themes, for all Content Builder elements and for any element, short code or widget created by Thrive Themes. In fact, I'd go as far as saying that not only are our themes fully responsive, our responsive grid is also the best of any theme. We haven't just re-used some simple responsive grid, we've put a lot of work into building a custom one, which is better at preserving a good layout at any size, than any other grid I've ever seen in a theme.
Specifically concerning the phone numbers (see this knowledge base entry for more info): the phone number element automatically turns into a tap-to-call button on smaller devices.[/thrive_toggle]
[thrive_toggle color='white' title='How can I create a menu item that links to an external page?']Go to "Appearance" -> "Menus" in your WP admin dashboard. You'll see that there is a "Links" section: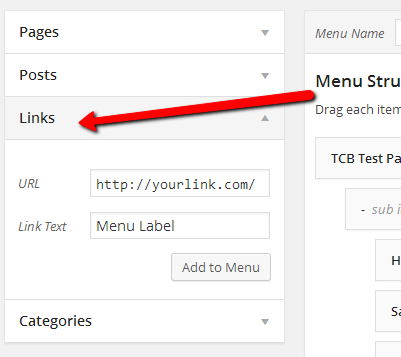 Enter the link to the external page in the URL field (this can be any custom link) and give the item a menu label in the "Link Text" field. Then click on "Add to Menu" and save the menu with the new item.[/thrive_toggle]
[thrive_toggle color='white' title='Can I display and manage ads in Thrive Themes?']As of this recording, not yet. However, two important points about this:
Our upcoming theme "Performag" will be a magazine type theme with a built-in ad manager.
If you want to manage ads on one of our other themes you can use a plugin such as AdRotate.[/thrive_toggle]
[thrive_toggle color='white' title='Can I use the opt-in features without having to use an autoreponder service?']Yes, you can. If you just want to store leads in your WordPress database and process them manually, you can use a free plugin called MailPoet.[/thrive_toggle]
[thrive_toggle color='white' title='Is it possible to add something like the tabbed widget  in the content area?']Yes, you can use a tabs short code to do this: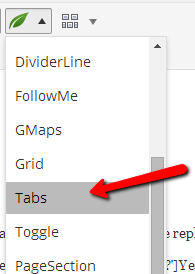 Here's an example of what tabs with content can look like, from one of our demo sites.[/thrive_toggle]
[thrive_toggle color='white' title='Do Thrive Themes work with XYZ plugin?']We had a few questions about the compatibility between Thrive Themes and various plugins. As a general answer, I can state this: Thrive Themes are built according to the WordPress codex. In other words, they're built the way WordPress software is supposed to be built and as a result any plugin that is also built according to these standards will be compatible.
Keep in mind, though, that WordPress is open source, so there's no enforcement of these standards by anyone. There are many, many plugins that are not built according to the guidelines and that can cause all sorts of conflicts. We can't prevent that from happening. But any well-coded and professionally built plugin will work seamlessly with Thrive Themes.[/thrive_toggle]
[thrive_toggle color='white' title='Do any of the Thrive Themes have parallax capability?']Short answer: no.
Longer answer: we have something very similar to parallax. Check out this demo of the static image page section effect. What happens with the static image page section is that the content scrolls while the background remains fixed.
A parallax effect is (typically) almost the same thing, except that the background scrolls at a different speed from the foreground. I.e. the background scrolls very slowly while the foreground scrolls at full speed. While the visual difference between real parallax and a static background is subtle, the difference in the amount of data you need to load is massive. A parallax effect requires relatively heavy scripting, which will slow down your page loading speeds. Especially on mobile devices, this tends to become very noticeable.
Since parallax is only a visual effect and doesn't serve a (conversion) purpose, we have not added this feature to our themes.[/thrive_toggle]
[thrive_toggle color='white' title='What theme do you recommend for a local business/selling products/blogging/directories?']We had several questions like this. As of this recording, we only have two types of themes: multi-purpose and blogging (the only blogging theme being Voice).
Even Voice is a highly capable multi-purpose theme, it's just the design that makes it somewhat more suitable for a blogging or podcast style website. The multi-purpose themes can really be made to fit any kind of website, it just depends on how you set them up and which features you make use of.
Going forward, there will be more and more specialized themes released by us. There will be themes made specifically for magazine and news sites, themes made specifically for local businesses and so on. Until we release these specialized themes, any multi-purpose theme is equally capable of getting the job done.[/thrive_toggle]
[thrive_toggle color='white' title='How can I protect my site from malware, hackers and other risks?']Here are the most important points to protect your site:
Keep your computers and laptops free from viruses and malware and scan them regularly (malware can otherwise infect your sites, for example when you connect by FTP).
Always use safe, strong passwords.
Always keep backups. Make sure you have 2 layers of security when it comes to backups, e.g. daily server backups + database backups.
Use the BureProtect plugin and/or CloudFlare to add another layer of security against bots.[/thrive_toggle]
[thrive_toggle color='white' title='What happens if I ever want to switch to a new theme?']We're making sure that the themes are all cross-compatible with each other. In practice this means: if you switch from one Thrive Theme to another one, nothing will "break". All your pages and content will still work and look good.
Of course, you should still check the entire site, since a design change might mean that you need to tweak some aspects of the layout to make it look nice and polished again. But functionally, everything will work after a theme switch.
Of course, we can't ensure this kind of compatibility between our themes and non-Thrive themes. I you switch to a non-Thrive theme, things like the Thrive short codes and other Thrive specific features will no longer work and it will take a bit more cleanup work to get everything back in order.[/thrive_toggle]
[thrive_toggle color='white' title='What is your goal with Thrive Themes?']Our goal is to provide, by far, the best WordPress themes for people who care about conversions.
Thrive Themes will never have the greatest amounts of fancy effects and latest gimmicks to show off. We will never be chasing after every latest design fad that comes around, like many theme developers do. We will, however, continue to create the best themes for people who build websites to make money, by creating conversion optimized designs and focusing on the usefulness and functionality of our themes.
In time, I hope that Thrive will become known as the leading brand for highest-end, luxury class themes for anyone who wants to build a website that converts.[/thrive_toggle]
[thrive_toggle color='white' title='Can I create a page with an image gallery?']Yes. There are currently two options to create nice image galleries in our themes. The first is to use the WordPress gallery feature. Check out this post to see how to use it and what we've done to make this feature totally awesome.
The second option is to create gallery posts in the themes that support post formats. You can learn more about this here.[/thrive_toggle]
[thrive_toggle color='white' title='If I customize my theme and then update to a new version of the theme, will that cause problems?']Not as long as you use our built-in customization options. You can use the theme options, the theme customizer an the custom CSS feature to make various changes to your theme that will not be affected by a theme update. This is what I recommend for most cases.
If you're a developer and you want to make heavy modifications to a theme, I recommend you create a child theme and make the changes there.[/thrive_toggle]
[thrive_toggle color='white' title='Which theme did you use for the demo site in the webinar?']That's the FocusBlog theme, which was our first theme.[/thrive_toggle]
[thrive_toggle color='white' title='Can I move my Weebly site to WordPress + Thrive Themes?']Personally, I don't have any experience with Weebly, but there's a great tutorial about moving from Weebly to WordPress, here: How to Properly Move from Weebly to WordPress.[/thrive_toggle]