How to add Google Analytics tracking with Thrives Themes
Google Analytics it's one of the most popular analytics platform which offers detailed statistics about a website's traffic and traffic sources and measures conversions and sales.
The Google Thrive Themes have an option with you can add easily your Google Analytics tracking code, but first let's see how can we obtain the tracking code.
Get the Google Analytics tracking code
1. Sign in into your Google Analytics account.
2. Go to Admin in the top menu bar (1). From Property column select the property you're working with (2) >> Click Tracking Info >> Tracking Code (3)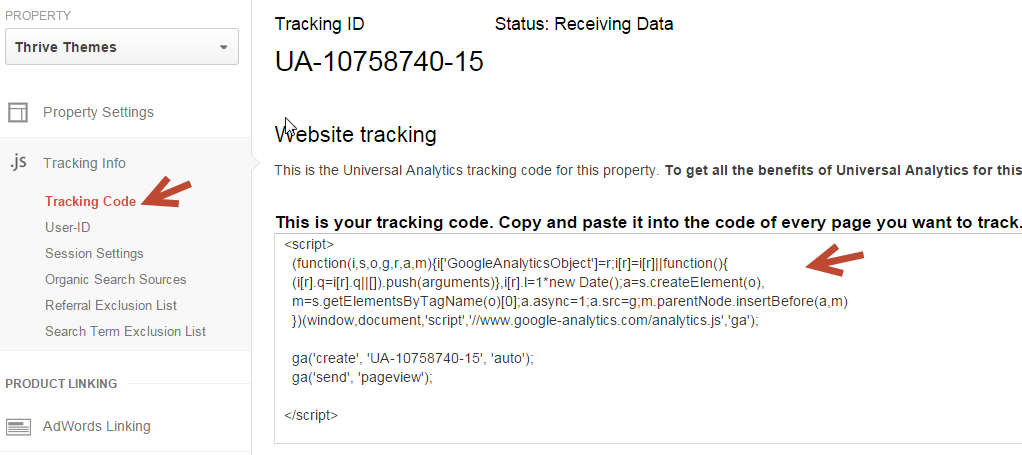 3. Next, copy the Google Analytics tracking code from the text area which appeared.
Set up the Google Analytics in Thrive Theme
Go to WordPress control panel >> Thrive Themes >> Thrive Options >> Analytics / Scripts and paste the code into the Header script text area.

Why not in Body script? If you put the code in the Body script then the code will run after the page is loaded, not before the page is loaded (as with Header script). The code will run like this too, but for example some of the Google Analytics features wouldn't work properly because of this, like the the "Real time reporting". Also Google recommends to place the code in the Header.