The Easiest Way to Get

More Email Subscribers

, Faster.

Get Results in Minutes
Thrive Leads is built to be easy to use and is made for Rapid Implementation. Build & deploy forms in minutes and start growing your list!
No Tech Skills Required
Thrive Leads lets you use next-generation opt-in technology without needing any tech skills and at an affordable price!
Stunning Design & Options
Create beautiful opt-in forms in our visual editor. Don't like annoying pop-ups? No problem, you have many less intrusive options to choose from!
Using Thrive Leads is like having your very own list-building and conversion expert - baked right into a powerful piece of software.
This is not your old-school list building plugin. We've taken the most cutting edge conversion tactics used by smart businesses and growth hackers and for the first time ever, those tactics are easy as pie for you to use on your own site. You can finally experience explosive list growth and the amazing business benefits that come with it.​
9,000+

Enthusiastic Users Can't Be Wrong...
Already, more than 9,000 customers have discovered the benefits of using conversion-boosting WordPress tools provided by Thrive Themes. We guarantee luxury-quality software and real life results. And our software delivers, over and over again.
Wondering why Thrive Leads will be the most important plugin you've ever used? Here's why:
A Mailing List =

Traffic at Your Fingertips
One of the most repeated statements in marketing is that a mailing list is the most important asset an online business can build. And the reason is simple: nothing else gives you the kind of on-demand traffic that a mailing list does.
Whatever your worries are - rising cost of PPC traffic, Google giving you a hard time, difficulty finding new traffic sources, not making enough sales - with a growing mailing list, the problems all dwindle away. ​The question is not "should you build a mailing list?" the question is: "are you building your mailing list as effectively as possible?"
If not, you're leaving money on the table. And that's why we created Thrive Leads to be the hands-down most effective, most conversion focused lead opt-in plugin for WordPress.​
See

Thrive Leads

in Action

Check out this demo video to get a feel for what it's like to work with the plugin: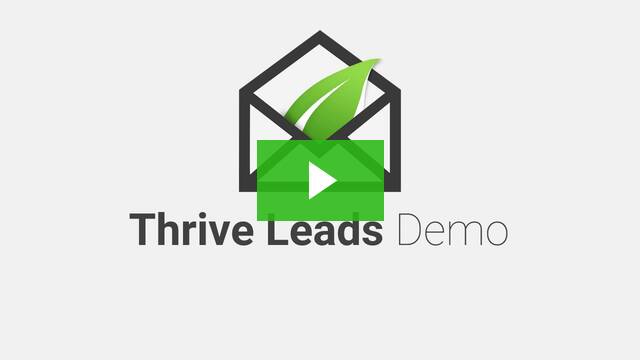 What Thrive Leads has to offer simply goes above and beyond:
What Makes Thrive Leads Different?
Here are the
4 Main Benefits:​
Design & Deploy
Thrive Leads is combines every type of opt-in form you need in one single plugin and gives you a simple drag-and-drop editor to create the perfect design every time.
Advanced Targeting
Get a massive conversion boost by showing relevant, highly targeted offers to your visitors based on posts, categories, tags and more. Build hyper-targeted and profitable lists.
A/B Testing Engine
Thrive Leads comes with a highly advanced but very easy to use A/B testing feature. Easily increase your conversions and use the plugin to automatically increase your conversion rate.
Actionable Reporting & Insights
Thrive Leads gives you a simple overview over the most important metrics. See exactly how your opt-in forms are performing over time and where your most valuable traffic comes from.
Build

Every Type of Opt-In Form

to Maximize Your Conversions
Using Thrive Leads, you no longer have to rely on just one way to generate leads and you no longer need multiple plugins (that probably conflict with each other). It's the all-in-one list-building solution you've been waiting for.
Popup Lightbox
An unblockable overlay (a.k.a. popup) that is displayed above your content and is very attention-grabbing.
"Sticky" Ribbon
Add a ribbon type form which shows at the top of the screen and remains "sticky" as the visitor scrolls down the page.
In-Line Forms
Automatically insert an opt-in form at the bottom of your posts or insert them anywhere using a simple short code.
2-Step Opt-In Form
Create a 2-step signup process by adding buttons or links that open a lightbox on click.
Slide-In
Less intrusive than a popup, but almost equally attention grabbing, this form slides into view from the corner.
Opt-In Widget
Add an opt-in form to your sidebar or any other widget area on your site, with just a few clicks.
This alone gives Thrive Leads an advantage over other solutions: to just have these options available for your site, you'd usually have to purchase and combine 2 to 3 separate plugins - slowing down your site and eating a hole into your wallet...
Build
Conversion Boosting Forms

- No Design Skills Required!

Creating beautifully designed, eye-catching and conversion optimized forms is a breeze with Thrive Leads, thanks to an extensive library of professionally designed templates you can use:

Make a few tweaks to a form or completely customize your own design. With our intuitive drag-and-drop editor, you can create any design you can think of - all without touching a single line of code!
Use Thrive Leads Forms to Cover All the Bases
Easily customize your designs (and create your own) with a drag & drop editor.

Everything you create in Thrive Leads is fully mobile responsive and looks great on any device.
Advanced lead generation forms supported: multiple fields, checkboxes, radio buttons & drop-downs.
100% clean & fast code. Tested and compatible with all browsers.
Create
Hyper-Targeted Offers

to Skyrocket Your Conversion Rates

Advanced targeting options let you create customized opt-in forms for specific categories, tags, posts, pages and more. This let's you display highly relevant offers, based on your visitor's actions on your site - a surefire way to boost conversions and profits.

There Are 3 Levels of Targeting You Can Use With Thrive Leads:
1: Easy
Create your opt-in form and set it as a "catch-all", to show it on all posts and pages on your site. Or, show it only in blog posts.
2: Advanced
Define exactly where and when your opt-in forms are shown, based on rules about post categories, tags, post formats and more. Create relevant, specific offers for different segments of your audience.
3: Ultimate
Create specific offers for your most valuable posts (the ones that receive the most long-term traffic). This method is know as the "content upgrade" and with Thrive Leads you can implement this powerful strategy using 2-step opt-ins or in-content forms.
Bottom line: with Thrive Leads, you have 100% control over exactly where and how your opt-in forms are shown.
Even on an existing site with hundreds of posts, you can use the targeting feature to retroactively show more relevant and higher-converting opt-in forms all across your site.
A/B Test Your Way to a

Rapidly Growing Mailing List
There are many self-proclaimed experts with many opinions about what you should do to increase conversions. But opinions simply don't matter. The way to increase the speed at which your list grows is to run A/B tests and find out what really works best on your site.
Thrive Leads was built from the ground up to be the best, most conversion-boosting testing tool you've ever used.​
These
4 A/B testing strategies

will accelerate your list growth like never before:
Test Different Designs & Content
With just a few clicks, you can change the headline, add a new image or switch colors to get 2 test variations to pit against each other.​
Test Triggers
Should you show a popup after 3 seconds, once the users scrolls 50% down the page or once the visitor is about to exit your site? Run the test and find out!
Test Different Form Types
With Thrive Leads, you can even test entirely different opt-in types against each other. E.g. a lightbox popup vs. a slide-in form or a widget vs. a ribbon.
Test Entirely Different Offers
Test an ebook as your opt-in incentive vs. a 4-day video course. Or any other combination of offers. You can sign people up to different funnels and different follow-up sequences using A/B testing in Thrive Leads.
Put Your Conversion Optimization on Autopilot...
With Thrive Leads, you can set up a test between two or more variations of your forms in just minutes and then you can use our "automatic winner" feature to let the plugin do the rest.
Thrive Leads will automatically monitor the performance of each variation and once a statistically proven winner has been found, all the losing variations will be hidden automatically. In practice, that means you can "set and forget" your tests and your conversion rate will automatically increase over time.​
Use

Smart Analytics

to Gain Actionable Insights & Get Higher Value Traffic
Knowledge is power and Thrive Leads gives you all the power you can handle. Detailed reports keep you on top of what's going on on your site and let you see exactly how your opt-ins and A/B tests are performing over time.
Plus, our lead sources report shows you exactly where your most valuable (highest converting) traffic is coming from. With this insight, you can plan your campaigns to get highly qualified traffic from the best sources.​
Okay, So You Got Features...

Now What?
As you can see, Thrive Leads is absolutely packed with features and we've built it to be as easy to use as possible. But what's the point, really?
If you're like most website owners, you need more features and more plugins like you need another hole in your head... ​what you really need are results.
And the big question is: does Thrive Leads warrant your time and attention? Will it actually make a difference to your business or will it be yet another waste of time?​
The

"Best Solution" Guarantee

for Thrive Leads
We offer a simple guarantee: if you can show us that Thrive Leads did not lead to significantly better results than another plugin or other lead generation solution, we will grant you a full refund + you get to keep Thrive Leads + we will pay you for the solution that beat Thrive Leads (non-recurring only).
Seamlessly Integrate With Your Autoresponder or Email Marketing Service
Thrive Leads has direct API integrations for the most popular email services. In addition, you can use it with any system that creates an HTML signup form, opening Thrive Leads up to hundreds of possible integrations. You can also use different lists and different services for different forms you create, so you're never tied to just one system.
Get
Your Copy

of Thrive Leads:
Agency License
Use the plugin on your own sites & on client websites.
All features included.
Free, unlimited updates.
Unlimited support included.
Get it Now for
$588/year
Unlimited Sites
Use the plugin on all sites that you own & operate.
All features included.
Free, unlimited updates.
1 year of support included.
Get it Now for Only
$97!
Single Site License
Install & activate the plugin on one single website.
All features included.
Free, unlimited updates.
1 year of support included.
Get it Now for Only
$67!
The current version of Thrive Leads contains all the features and benefits listed above - and we have a whole range of new features and improvements planned for the near future. Because of these constant impovements, the price will increase in the future.
Our
100%

Satisfaction Guarantee

If you don't like this amazing plugin for any reason, you can get a full refund anytime within 30 days of your purchase. If you have any issues, just get in touch with our friendly support team and they'll either help you out until you get the results you need or give you a swift refund.
---
Your stuff is beautifully designed, fast and has great options for marketers that you just don't see with other themes. Great, great job! Absolutely love Thrive!
David Coleman
---
See How Thrive Leads Compares Against the Competition:
| | | | | | |
| --- | --- | --- | --- | --- | --- |
| | Thrive Leads | OptinMonster | SumoMe | OptinSkin | Popup Domination |
| Lightbox (Popup) Forms | | | | | |
| Slide-In Forms | | | | | |
| Exit Intent Trigger | | | | | |
| SmartExit Feature | | | | | |
| Ribbon Forms | | | | | |
| Widget Area Forms | | | | | |
| Post Footer Forms | | | | | |
| Auto In-Content Forms | | | | | |
| 2-Step Opt-In | | | | | |
| Screen-Filler Forms | | | | | |
| Scroll Mat Forms | | | | | |
| Fully Mobile Responsive | | | | | |
| Basic Targeting | | | | | |
| Advanced Targeting | | | | | |
| A/B Test Designs | | | | | |
| A/B Test Triggers | | | | | |
| A/B Test Form Types | | | | | |
| A/B Test Offers | | | | | |
| Automatic A/B Test Winner | | | | | |
| Unlimited Campaigns | | | | | |
| Intuitive Visual Editor | | | | | |
| 100% Editable Design | | | | | |
| Detailed Stats | | | | | |
| Lead Source Report | | | | | |
| Content Marketing Report | | | | | |
| Multiple Fields, Checkboxes | | | | | |
| Multiple Choice Forms | | | | | |
| Mini Quiz Forms | | | | | |
| Alternate Content for Subscribers | | | | | |
| SmartLinks Feature | | | | | |
| Advanced Animations | | | | | |
| Price | | | Limited Free, $100/month for full version | | |
And quite frankly, we're only just scratching the surface. Right now, Thrive Leads is a way better solution than anything else. Watch out of the features and additions we'll be rolling out in the coming weeks and you'll see that Thrive Leads will increase the lead it has on the competition by an even larger margin...
Are You

Wasting Your Time

on Passing Fads and "Shortcuts" that Are Actually Just Dead Ends?
Or Are You Building a Mailing List?
It's strange to think how many people get into Internet marketing because they chase a dream of making a quick buck. They're looking for that magical "push button money" software or tactic. Something that can make them money almost instantly and very easily. And of course, they never find it, because it doesn't exist.
So many people spend months and even years looking for shortcuts, easy methods and free traffic. And they pass up list-building and email marketing because it's "too difficult" or "too expensive". And what happens? They either give up or they invest lots of time and money into something else. Don't be one of them.
Yes, building a list takes time. You won't go from zero to massive, profitable mailing list over night. But it's time well invested, because a mailing list gives you a growing asset and it pays off every step of the way. First in a small way. Then in a big way. And later on, if you've invested your time into email marketing instead of a bunch of passing fads, in a really massive way.
The push-button money magic doesn't exist, but it's those who build mailing lists that get closest to this dream. It's great to know that you can send an email and it will generate sales for sure. You know you can get those clicks, you know you can get traffic to anything you want. Believe me: this is worth investing in.
FAQ
Here are answers to some of the commonly asked questions about Thrive Leads:
Who is Thrive Leads made for? Do I need it?
Do I need WordPress to use Thrive Leads?
Can I upgrade my license at a later date?
How is Thrive Leads different from other opt-in plugins?
Is this plugin beginner friendly or is it complicated to use?
What happens if I need support after more than one year?
Will Thrive Leads slow down my website?
Do you offer any training on how to use the plugin?
Do you have any other questions? Simply contact our friendly support team and we'll be happy to help you out!
---
Fortune Favors the

List-Builders

...
Get your copy of Thrive Leads today and I guarantee you will love the level of quality and attention to detail we put into everything we create - from the plugin itself to the tutorials and support we provide.
If you've ever envied marketers who can just send an email and almost instantly get traffic and sales, now is the time to get started with list building! Even a small mailing list can be very profitable and there's no better way to get started with list building than with Thrive Leads and a WordPress website.​
Don't be one of the (many, many) marketers who end up saying "I wish I had started building a list sooner!" Learn from their mistakes and start right now.​
Get
Thrive Leads

Now & Start Growing Your List!

Remember, there's a good reason why every marketer ever always goes on about how "the money is in the list". Get your copy of Thrive Leads & start seeing results today!