Since day one, Thrive Themes have featured a great time-saving addition that you might have missed up until now. The feature in question is one click cloning.
In this post, you'll discover how the feature works and see some examples of how you can use it to your advantage.
Note: the feature shown here is a theme feature. It is only available when you have a Thrive Theme installed. If you use Thrive Architect or other plugins made by Thrive Themes, but a different theme, you won't see the "clone" link as shown below.
More...
How it Works
In your WordPress admin dashboard, you'll find a "Clone" link in any post list. It looks like this:

Click on it and you'll instantly be taken to a newly created post which is exactly identical to the post you just cloned, except that its title begins with "Clone of…" and it's status will be draft even if the cloned post was already published.
The brilliant thing about the cloning feature is that it goes beyond just cloning the post title and content. It also works with page settings, theme settings and even various plugin settings, such as:
If you have SEO settings for the original post saved with the Yoast SEO plugin or any other SEO plugin, the cloned post will have the same settings.
If you have custom page layouts or page settings (such as the Thrive Themes settings, custom scripts, custom CSS etc.) active in the original post, they will be identical in the cloned post.
If you're using a membership plugin to make a post available to only specific membership levels, those settings will also be cloned.
And the list goes on. What it comes down to is this: any setting from any plugin that is saved in the way settings are supposed to be saved, according to WordPress guidelines, will be cloned flawlessly and instantly.
Posts, Pages & More
So far, I've been talking about posts and post lists. That doesn't only include blog posts, though. WordPress works with what they call "post types" and anything that's a post type can be cloned. For example, you can clone Focus Areas and Thrive Lightboxes. Depending on what plugins you use, you might have other types of content that you can also clone with this theme feature (contact forms, ads,…).
Which leads to the question of how to best make use of this versatile feature:
Example 1: Faster Focus Area Targeting
Focus Areas can be targeted to specific categories, which is ideal for making specific offers that increase your conversion rate. You can even use the same Focus Area with the same offer and change the message to better suit different categories. Here's an example: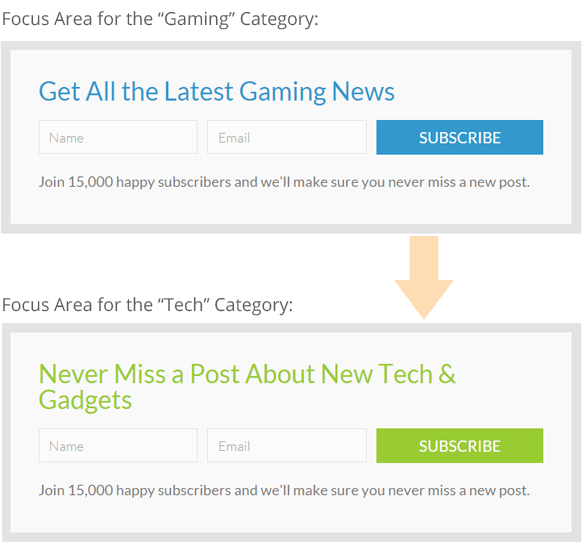 Instead of creating a new Focus Area from scratch, you can just clone the first one, make some small adjustments, change the targeting and publish!
Example 2: Affiliates & Special Offer Pages
In the past, I've occasionally run special offers for some of my products, in collaboration with affiliates. We'd create a limited time special offer for the product, for the customers of a specific affiliate. With page cloning, it becomes very simple to set up:
Clone the original sales page.
Change the prices to the special offer ones.
Add a countdown timer element.
Add some content that's personalized for the affiliate, like the example below:

This way, you've got a personalized special offer page ready in minutes. The same can be done for the "offer expired" page, which you can create once and then clone and personalize for each new affiliate, after their special offer window runs out.
In short, you can see that the cloning feature is a massive time saver and can be used in various ways, depending on your needs.
Do you have some creative ideas for putting this feature to use? Let us know by leaving a comment!